WA Delegate: None.
Founder: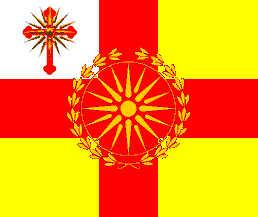 The Macedonian of Perdika I
Tags: Minuscule and Condemned.
Macedon contains 3 nations.
Today's World Census Report
The Longest Average Lifespans in Macedon
Nations ranked highly have lower rates of preventable death, with their citizens enjoying longer average lifespans.
As a region, Macedon is ranked 15,872nd in the world for Longest Average Lifespans.
Macedon Regional Message Board
Loading...
I decided this region needs a little life!
First post in 543 days! WOOHOO!
Hello!
I plan to invite others and make this region great!
We shall arise from the ashes of condemnation and become a mighty people!
Post by Deez nuuuts suppressed by a moderator.
Greetings
I have brought My people to this region for a new beginning, for us all.
Macedon once stood in Yugoslavia, and still it holds the moniker of Former Yugoslavian Republic of Macedonia. I ask, return Macedon to its Socialist-Humanitarian roots from before the war and return to a Pan-Slavic Union!