WA Delegate: None.
Founder: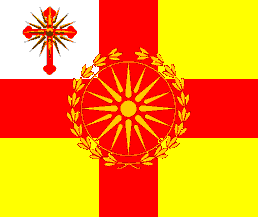 The Macedonian Emperor of Alexander 3 The Great
Macedonia contains 3 nations.
Today's World Census Report
The Most Politically Apathetic Citizens in Macedonia
These results were determined by seeing how many citizens of each nation answered a recent World Census survey on the local political situation by ticking the "Don't Give a Damn" box.
As a region, Macedonia is ranked 5,983rd in the world for Most Politically Apathetic Citizens.
Macedonia Regional Message Board
Loading...
Poleka brat celta ni e da ja zacuvame imperijata sega za sega, ponatamu ke vidime. Inaku nema cat se citame po mesendzeri, malku e starovremevski znaeme :D
Komsiite od jug se borat da zgolemat vlijanie vo nivniot region, ama se zavisi od toa koj go ima osnovacot na regionot.
Ahoy! Congratulations on being today's featured region!
Congratulations on being featured, Macedonia!
Here's a little food for thought today:
"Let's be honest with ourselves and not take ourselves too serious, and never condemn the other fellow for doing what we are doing every day, only in a different way"
~ Will Rogers
A warm welcome to all the guests to the region of Macedonia! Today is Macedonia's day - all are invited, and the presence is obligatory :)))
Hey there !! Congratulations on being today's featured region !!
Congrats on being featured, friends.
when are elections for ruler?
I'm going to war with Medes and Persians. The war is the Macedonian-Wendylandish Civil War. If you are on The Wendylands side say "xeller." If you are on the Medes and Persians side say "worst." Thank you all nations of Macedonia!
What kind of language does this region have?
wow it looks like people like talking in this place