Macedonia
WA Delegate: None.
Founder: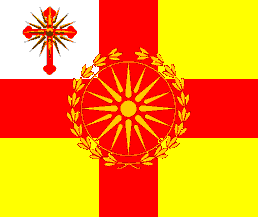 The Macedonian Emperor of Alexander 3 The Great
Macedonia contains 5 nations, the 2,679th most in the world.
Today's World Census Report
The Healthiest Citizens in Macedonia
A measure of the general health of citizens in each nation.
As a region, Macedonia is ranked 13,064th in the world for Healthiest Citizens.
Regional Happenings
Macedonia Regional Message Board
Loading...
dadnete me na facebook facebook.com/darklover1993 DAJTE DA SE ORGANIZIRAME DA JA ZADRZIME IMPERIJATA
Ne kontaktirajte so nikogo na svoja raka, nema potreba od toa da ja spasuvame Imperijata se si e vo red sega za sega.
Colombia is a free region, you have your own WA delegate, create a government, off site forum, you have own diplomatic relations etc.
a so Grcija ? dobro kade se sobirame site NS od makedonija ? nekoj chat ima li lele
Poleka brat celta ni e da ja zacuvame imperijata sega za sega, ponatamu ke vidime. Inaku nema cat se citame po mesendzeri, malku e starovremevski znaeme :D
Komsiite od jug se borat da zgolemat vlijanie vo nivniot region, ama se zavisi od toa koj go ima osnovacot na regionot.
Ahoy! Congratulations on being today's featured region!
Congratulations on being featured, Macedonia!
Here's a little food for thought today:
"Let's be honest with ourselves and not take ourselves too serious, and never condemn the other fellow for doing what we are doing every day, only in a different way"
~ Will Rogers
A warm welcome to all the guests to the region of Macedonia! Today is Macedonia's day - all are invited, and the presence is obligatory :)))
Hey there !! Congratulations on being today's featured region !!
Congrats on being featured, friends.
when are elections for ruler?