WA Delegate: None.
Founder: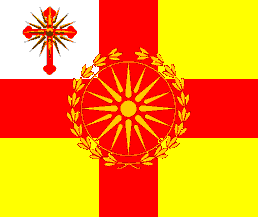 The Macedonian Emperor of Alexander 3 The Great
Macedonia contains 3 nations.
Today's World Census Report
The Most Primitive in Macedonia
Nations were ranked by World Census officials based on the number of natural phenomena attributed solely to the unknowable will of the gods.
As a region, Macedonia is ranked 6,222nd in the world for Most Primitive.
Macedonia Regional Message Board
Loading...
Ahoy! Congratulations on being today's featured region!
Congratulations on being featured, Macedonia!
Here's a little food for thought today:
"Let's be honest with ourselves and not take ourselves too serious, and never condemn the other fellow for doing what we are doing every day, only in a different way"
~ Will Rogers
A warm welcome to all the guests to the region of Macedonia! Today is Macedonia's day - all are invited, and the presence is obligatory :)))
Hey there !! Congratulations on being today's featured region !!
Congrats on being featured, friends.
when are elections for ruler?
I'm going to war with Medes and Persians. The war is the Macedonian-Wendylandish Civil War. If you are on The Wendylands side say "xeller." If you are on the Medes and Persians side say "worst." Thank you all nations of Macedonia!
What kind of language does this region have?
wow it looks like people like talking in this place